UMBC Faculty visit Carderock Naval Surface Warfare Center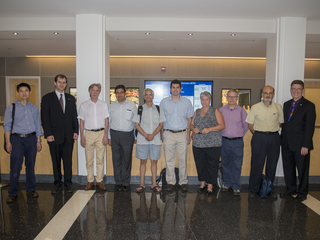 On Wednesday, July 20th, a group of professors from UMBC visited the Carderock Naval Surface Warfare Center to discuss research collaborations in additive manufacturing and in cybersecurity.
Carderock is located in Potomac, Maryland and consists of more than three thousand Navy researchers focused on research areas including:
Environmental Quality Systems;

Hull Forms & Propulsors;

Ship Design & Integration;

Signatures,

Silencing Systems,

Structures and Materials;

Susceptibility.
Carerock is home to unique testing facilities which align with the research goals of many members of the UMBC community. Participating in the visit were professors from the Department of Information Systems (IS), Department of Physics, Department of Mechanical Engineering (ME), and Department of Computer Science and Electrical Engineering (CSEE), including (
from 
left to right)
Zhiyuan Chen (IS), Don Engel (Asst. VP for Research
, CSEE
, Physics), 
Mark Henriksen (Physics), 
Anupam Joshi (CSEE), 
Dhananjay Phatak (CSEE),
Ryan Robucci (CSEE), 
Sue Plitt (Career Services), 
Chuck Eggleton (ME), 
Mohamed Younis (CSEE), and Karl Steiner (VP for Research, ME), as well as Soobum Lee (ME, not pictured).