Established in 1966, UMBC is now among the fastest-growing research universities in the nation – designated a Doctoral University with High Research Activity in the most recent Carnegie Classification of Institutions of Higher Education, which places us among the top 220 research universities in the nation. 
Rankings
#1 in the nation for producing the most African American graduates who have gone on to earn MD-PhD degrees, according to the Association of American Medical Colleges (AAMC).
#3 in the nation in achieving social and economic impact, according to the 2019 Times Higher Education University Impact measures
#9 among the Nation's "Most Innovative Schools" in the 2020 U.S. News & World Report Best Colleges Guide joining ASU, MIT, Stanford, Carnegie Mellon, Caltech in the Top 10.
#12 for "Best Undergraduate Teaching" in the 2020 U.S. News & World Report Best Colleges Guide of National Universities joining Princeton, Brown, Dartmouth, and Notre Dame in the Top 12.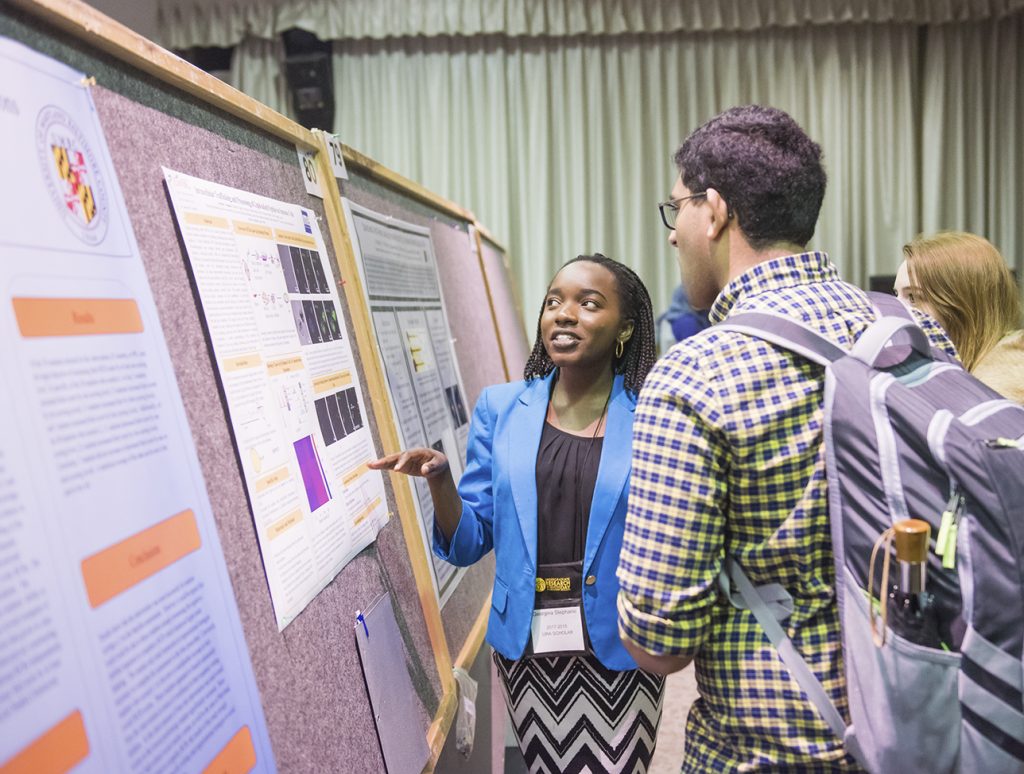 #13 among all US Colleges and Universities in annual NASA funding, with three major collaborative Centers focused on Earth Systems Technology, Heliophysics and Space Sciences.
#27 among all US Colleges and Universities in federal funding for both Social Sciences and in Geosciences, Atmospheric Sciences, and Ocean Sciences
#148 in federal research and development expenditures according to the current NSF Higher Education Research and Development (HERD) survey.
#17 nationally and #48 globally for the number of citations per faculty member, according to the 2020 QS World University Ranking.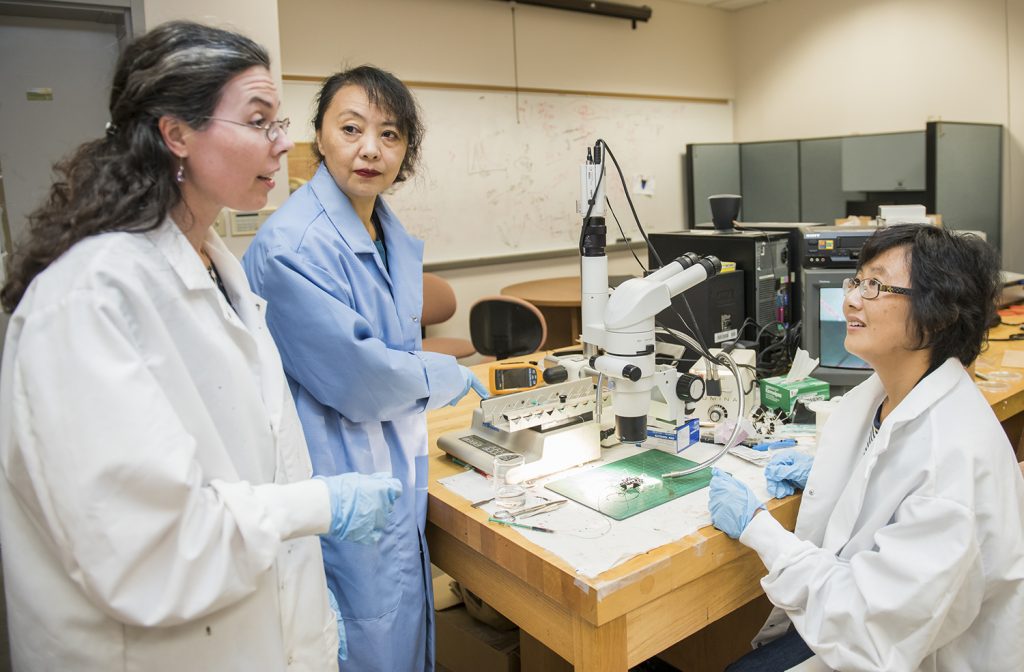 More Research Fast Facts
UMBC's key research themes comprise Environmental Sciences and Engineering, especially Atmospheric Physics, Remote Sensing and Contaminant Remediation; Life Sciences & Biotechnology, including Marine Biotechnology and Health Sciences; and Computer Information Systems & Engineering, with special focus on Cybersecurity and Cognitive Analytics; as well as Health Equity, Policy Studies and Public Humanities and Art.
UMBC is home to 538 full-time faculty and 292 part-time faculty; supporting 13,602 enrolled students, including 2,542 graduate students.
UMBC's 

annual extramural research expenditures in FY2019 were $75

 million, a remarkable growth from only $20 million in 1996. These overall expenditures include $46.2 million provided by federally-funded programs.

UMBC's NASA-funded centers at NASA Goddard are the Joint Center for Earth Systems Technology (JCET), the Goddard Planetary Heliophysics Institute (GPHI) and the Center for Space Sciences and Technology (CSST).
UMBC is ranked #173 in overall R&D expenditures in FY2018 out of 639 US institutions surveyed, according to the current NSF Higher Education Research and Development (HERD) survey.
UMBC is ranked #159 among National Universities in the 2018 rankings by US News & World Report.
UMBC was designated a Minority Serving Institution for the U.S. Department of Education in February 2017.
UMBC's Dr. Michael Summers, Robert E. Meyerhoff Chair of Excellence in Research and Mentoring, University Distinguished Professor of Chemistry and Biochemistry and one of only two Howard Hughes Medical Institute Investigators at a public university in Maryland, was elected to National Academy of Sciences in 2016. His research is aimed at under-standing how retroviruses assemble and how they specifically recognize and package their genetic material.
UMBC

 junior faculty members have secure

d 36 NSF CAREER Awards since 1995, including Dr. Aaron Smith in Chemistry/Biochemistry in 2019, Dr. Nir

malya Roy in Information Systems in 2018 and three recipients in 2017: Dr. Tinoosh Mohsenin and Dr. Ting Zhu in Computer Science & Electrical Engineering and Dr. Lee Blaney in Chemical, Biochemical and Environmental Engineering.

Two UMBC-affiliated 

researchers have received the prestigious 

Presidential Early Career Award in Science and Engineering (PECASE)

 awards – one from NSF in 2005 and one from NSA in 2014.

UMBC's Dr. Deborah Rudacille in English received a 2017 Guggenheim Fellowship, one of only two recipients in the category of Science Writing. She will be writing a book on "The Family Disease: Alcoholism, Addiction, and Inheritance." 
UMBC's Dr. Michael Nance in Philosophy received a 2016 Humboldt Research Award for his work and is conducting research with the Goethe Institute in Frankfurt, Germany. Curtis Menyuk in Computer Sciences and Electrical Engineering is the recipient of a 2015 Humboldt Research Award for his work in nonlinear optics and "self-similarity" in light propagation.
UMBC's Dr. Jeffrey Gardner in Biological Sciences received a 2015 DOE Early Career Award for his work in understanding the degradation and regulatory modeling of plant biomass for renewable energy production.
UMBC's Dr. Carlos Romero-Talamas in Mechanical Engineering received a 2014 DARPA Young Faculty Award for his work on new computational models for nuclear fusion technology.
UMBC's Dr. Danielle Beatty Moody in Psychology received a 2015 NIH Early Career Development Award from NIH for her work investigating how racial disparities in exposure to early life social disadvantage (ELSD) promote accelerated subclinical and clinical brain pathology in African Americans.
UMBC is proud of its first Rhodes Scholar – Naomi Mburu, who received this distinction in 2017.
UMBC is home to three 2016 Goldwater scholarship recipients (Daniel Ocasio, Naomi Mburu, and Andreas Seas) and UMBC students have received 11 Goldwater scholarships from 2006 through 2016.
UMBC is listed among the nation's "Top 100 Public Universities," according to Kiplinger's list of Best Values in Public Colleges.
UMBC's Research Park – bwtech@UMBC – comprises 525,000 square feet, operates three incubators – focused on cybersecurity and technology & life sciences – houses over 130 tenants providing over 1,600 direct jobs. About half of the companies at bwtech@UMBC are focused on the cybersecurity and IT domain.