Established in 1966, UMBC i
s now among the fastest-growing research universities in the nation – designated a
Doctoral University with High Research Activity in the most recent
Carnegie Classification of Institutions of Higher Education,
 which places us among the top 6% of research universities in the nation. 
Rankings
#1 in the nation for producing the most African American graduates who have gone on to earn MD-PhD degrees, according to the Association of American Medical Colleges (AAMC).
#3 in the Nation in achieving social and economic impact, according to the 2019 Times Higher Education University Impact measures
#9 among the Nation's "Most Innovative Schools" in the 2020 U.S. News & World Report Best Colleges Guide joining ASU, MIT, Stanford, Carnegie Mellon, Caltech in the Top 10.
#12 for "Best Undergraduate Teaching" in the 2020 U.S. News & World Report Best Colleges Guide of National Universities joining Princeton, Brown, Dartmouth, and Notre Dame in the Top 12.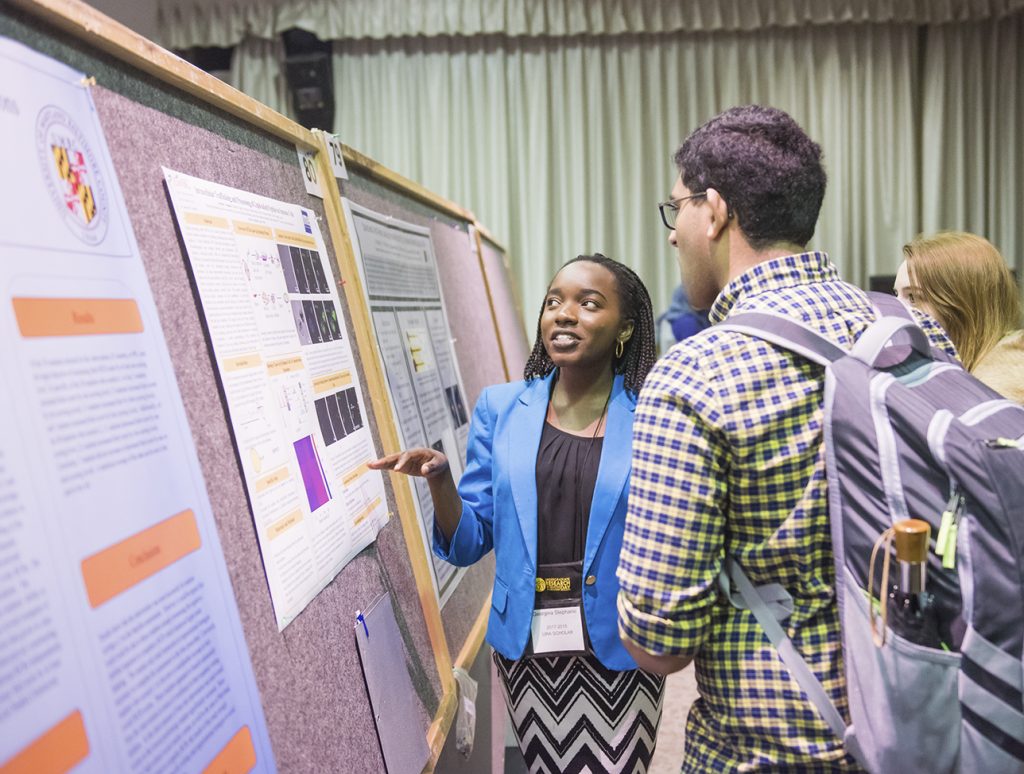 #13 among all US Colleges and Universities in annual NASA funding, with three major collaborative Centers focused on Earth Systems Technology, Heliophysics and Space Sciences.
#27 among all US Colleges and Universities in federal funding for both Social Sciences and in Geosciences, Atmospheric Sciences, and Ocean Sciences
#148 in federal research and development expenditures according to the current NSF Higher Education Research and Development (HERD) survey.
#17 nationally and #48 globally for the number of citations per faculty member, according to the 2020 QS World University Ranking.
More Research Fast Facts
UMBC's key research themes focus on Environmental Sciences, especially Atmospheric Physics & Remote Sensing, Earth & Space Sciences, and Ecology & Remediation; on Health & Life Sciences, including Marine Biotechnology and Health Sciences; on Data Sciences & National Security, with special focus on Cybersecurity and A, Cognitive Computing, Health IT, and Big Data Analytics; on Civic Engagement, including Health Equity and Policy Studies, as well as on Public Humanities and Arts.
UMBC is home to 538 full-time faculty and 292 part-time faculty; supporting 13,602 enrolled students, including 2,542 graduate students.
UMBC's faculty secured over $81 million in extramural awards in FY 2020. Campus-wide annual R&D expenditures exceeded $80 million in FY 2019. These overall expenditures include $57 million from federally funded sources.
UMBC's NASA-funded centers at NASA Goddard are the Joint Center for Earth Systems Technology (JCET), the Goddard Planetary Heliophysics Institute (GPHI) and the Center for Space Sciences and Technology (CSST).
UMBC

is ranked #173 in overall R&D expenditures in FY2018 out of 639 US institutions surveyed

, and #148 in federal research and development expenditures, according to the current NSF Higher Education Research and Development (HERD) survey.
UMBC is ranked #159 among National Universities in the 2018 rankings by US News & World Report.
UMBC was designated a Minority Serving Institution for the U.S. Department of Education in February 2017.
UMBC

 junior faculty members have secure

d 38 NSF CAREER Awards since 1995,

includin

g nine during the past five years.  Recent recipients include: Dr. Jianwu Wang in Information Systems and Dr. Naghmeh Karimi in Computer Science & Electrical Engineering in 2020, Dr. Aaron Smith in Chemistry & Biochemistry in 2019, Dr. Nirmalya Roy in Information Systems in 2018, and three recipients in 2017: Dr. Tinoosh Mohsenin and Dr. Ting Zhu in Computer Science & Electrical Engineering and Dr. Lee Blaney in Chemical, Biochemical and Environmental Engineering.
Two UMBC-affiliated 

researchers have received the prestigious 

Presidential Early Career Award in Science and Engineering (PECASE)

awards – one from NSF in 2005 and one from NSA in 2014.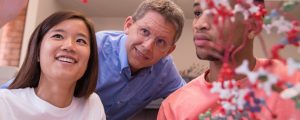 UMBC's Dr. Michael Summers, Robert E. Meyerhoff Chair of Excellence in Research and Mentoring, University Distinguished Professor of Chemistry and Biochemistry and one of only two Howard Hughes Medical Institute Investigators at a public university in Maryland, was elected to National Academy of Sciences in 2016. His research is aimed at understanding how retroviruses assemble and how they specifically recognize and package their genetic material.
UMBC's Dr. Anne Sarah Rubin and Dr. Susan McDonough – both in History – received 2019-20 Fellowships from the National Endowment for the Humanities (NEH).
UMBC's Dr. Nkiru Nnawulezi in Psychology received a 2019 Linda Saltzman New Investigator Award from the CDC Foundation.
UMBC's Dr. Mejdulene Shomali in Gender, Women's, + Sexuality Studies, received a 2019 Career Enhancement Fellowship from the Woodrow Wilson Foundation to complete a book manuscript, Femininities: Queer Critique and Transnational Arab Culture.
Two UMBC faculty received 2018-19 Fulbright Fellowships – Christopher Tong in Modern Languages, Linguistics, & Intercultural Communication for work in China; and Guenet Abraham in Visual Arts for work in Ethiopia.
UMBC is proud of its first Rhodes Scholar – Naomi Mburu, who received this distinction in 2017.
UMBC is listed among the nation's "Top 100 Public Universities," according to Kiplinger's list of Best Values in Public Colleges.
UMBC's Research Park – bwtech@UMBC – comprises 525,000 square feet, operates three incubators – focused on cybersecurity and technology & life sciences – houses over 130 tenants providing over 1,600 direct jobs. About half of the companies at bwtech@UMBC are focused on the cybersecurity and IT domain.