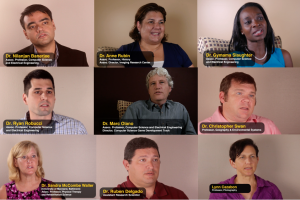 UMBC Faculty are working on a broad variety of research topics that provide real impact on the communities.
UMBC has created and launched a growing series of videos that provide an overview of their work and the broader impact on the communities they are working with.
Additional Research at UMBC videos are available from the annual GRIT-X Series of talks by UMBC alumni and faculty member, which are available at GRIT-X – Global. Research. Innovation. Trends. Excellence.
Public Research for Public Good Videos
Wearable Technology for Quadriplegics

Through a partnership with the University of Maryland, Baltimore School of Medicine, researchers in UMBC's ECLPISE Cluster are building and testing wearable sensors that can make life easier for the millions of people who are paralyzed or challenged by neuromuscular diseases.
Nilanjan Banerjee, Associate Professor, Computer Science and Electrical Engineering
Ryan Robucci, Associate Professor, Computer Science and Electrical Engineering
Sandra McCombe Waller, Associate Professor, Physical Therapy and Rehabilitation Science, UMB-School of Medicine
Atmospheric LIDAR

Using LIDAR and other technologies, Professor Ruben Delgado and his student researchers publish the "Smog Blog," a daily diary of air quality in the U.S., and monitor wind behavior to help identify ways of improving environmental policy for all.
Ruben Delgado, Assistant Research Professor, Joint Center for Earth Systems Technology (JCET)
Maryland Green Prisons Initiative

Through photography and gardening, visual arts professor Lynn Cazabon helps inmates of a women's prison to get closer to nature as a means of expressing the stories of their unique lives.
Lynn Cazabon, Professor, Photography
Maryland Green Prisons Initiative

UMBC Professor Chris Swan is collaborating with Baltimore City and the Maryland prison system to green vacant lots in some of the city's most disadvantaged neighborhoods.
Chris Swan, Professor, Geography and Environmental Systems
Diabetic Glucose Monitoring System
By thinking of the human body as a battery, Professor Gymama Slaughter is creating innovative ways of monitoring glucose levels to reduce complications in the lives of diabetic patients and their families.
Gymama Slaughter, Associate Professor, Computer Science and Electrical Engineering
Pratt Street Riots

Combining history and gaming technology, UMBC faculty Anne Rubin and Marc Olano are bringing Baltimore's corner of the Civil War to life for area high school students.
Anne Rubin, Associate Professor, History & Associate Director, Imaging Research Center (IRC)
Marc Olano, Associate Professor, Computer Science and Electrical Engineering