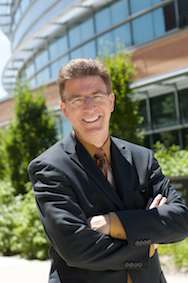 The Office of the Vice President for Research (OVPR) serves as an advocate for UMBC's research community, and supports our faculty, staff and students in their pursuit of research, scholarship and creative achievement across all levels.
Established in 1966, UMBC has risen from modest beginnings, with some of our initial external research awards secured in the mid 1990's. We have grown into a Doctoral University with Higher Research Activity, as designated by the current Carnegie Classification, which places us among the top 220 research universities in the Nation with FY 2018 extramural research expenditures of $76 Million. According to the current NSF's Higher Education Research and Development (HERD) survey, UMBC is currently ranked #147 in federal research and development expenditures.
We build on the inherent strengths in our vibrant, interdisciplinary and collaborative research culture, with a strong national reputation for integrating undergraduates in mentored research. Our key research themes are well aligned with regional and national priorities – Environment, Health, National Security and Education.  Each of these key themes benefits from an inclusive approach, by taking into account social sciences, ethical, public policy and other important considerations to provide a comprehensive solution.
Our research motto "Innovation That Matters" reflects the fact that our faculty and students are particularly focused on translational and applied research areas: we thrive on the opportunity and experience that our work can have direct impact – on the scientific and engineering fields, on our students, and on the communities that we partner with.
Our faculty are recognized nationally and internationally, most notably with the election of Dr. Michael Summers in Chemistry and Biochemistry to the National Academy of Sciences in 2016, but also through the success of many of our junior faculty, such as the 2018 NSF CAREER Award to Dr. Nirmalya Roy in Information Systems, following three CAREER Awards in 2017 alone – to Dr. Tinoosh Mohsenin and Dr. Ting Zhu in Computer Science & Electrical Engineering (CSEE) and to Dr. Lee Blaney in Chemical, Biochemical and Environmental Engineering (CBEE).
Dr. Govind Rao, Director of the Center for Advanced Sensor Technology (CAST) was recognized by Connected World Magazine with the 2017 Pioneer Award. Dr. Deborah Rudacille in English received a Guggenheim Fellowship in 2017, Dr. Christy Ford Chapin in History received a Kluge Fellowship form the U.S. Library of Congress, and Maurice Berger from the Center for Art, Design and Visual Culture (CADVC) was recognized with the International Center of Photography (ICP) Infinity Award in 2018.
These are just a few of the major recognitions for our faculty over the past couple of years.
Our strategic location between Baltimore, MD and Washington, DC — in close proximity to major national labs and key industry leaders — positions us well to establish and grow long-term, sustainable partnerships and help create the highly educated workforce needed for tomorrow's economy.
Our research and incubator park – bwtech@UMBC – is located adjacent to the campus, comprises 525,000 square feet, houses 130 tenants providing 1,600 direct jobs and operates three incubators: in cybersecurity, life sciences, and clean tech. Launched in 1989, bwtech@UMBC was the first incubator located at an academic research institution in Maryland.
We hope this Research at UMBC site will be a frequent destination for you – our external partners, the campus community and the broader public.
As our Nation and the international community face environmental, technological, political, economic and social challenges, UMBC's core values of diversity, inclusive excellence and innovation will propel us forward to meet these challenges.
Please contact us to explore how we can achieve even more together.
Karl V. Steiner
Vice President for Research
Professor, Mechanical Engineering
Affiliate Professor, Computer Science and Electrical Engineering
steinerk@umbc.edu
410-455-5636