UMBC Delegation visits NASA Wallops Island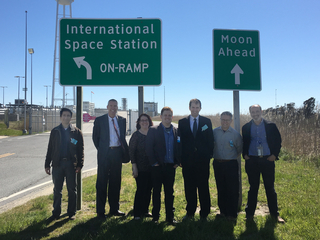 The plurality of UMBC's research funding comes from NASA, and much of this comes through NASA's Goddard Space Flight Center (GSFC). Many in the UMBC community are familiar with GSFC's nearby campus in Greenbelt, Maryland, but the Wallops Flight Facility – three hours from UMBC, near Chincoteague Island, Virginia – is another component of the GSFC.
Last week, a delegation from UMBC visited the Wallops Flight Facility. The UMBC group had the opportunity to present on their respective research interests and to tour the Wallops laboratories, rocket launch facilities and air hanger. Several promising opportunities for future collaborations were discussed. The visit had included professors from UMBC's departments of mechanical engineering; 
computer science and electrical engineering; and physics. The group was hosted by
William Wrobel, Director of the Wallops Flight Facility, who had visited UMBC last April. 
Left to Right: Carlos Romero-Talamas, WIlliam Wrobel, Cynthia Matuszek, Andrew Gadsden, Don Engel, Charles Eggleton, Vanderlei Martins
Left to Right: Cynthia Matuszek, Andrew Gadsden, Carlos Romero-Talamas, Vanderlei Martins, Charles Eggleton, Don Engel