UMBC Welcomes Over 300 Students for Nat'l Research Symposium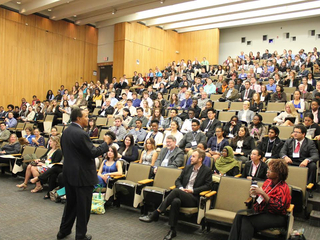 Dean Bill LaCourse of UMBC's College of Natural and Mathematical Sciences says, "UMBC is delighted to provide a convivial atmosphere for so many students to demonstrate and practice the skills of their disciplines and focus on the benefits of experiential learning. We are proud and humbled to participate in the journey of discovery for these budding scientists and researchers."
Each year this exciting UMBC symposium invites mentor-approved contributions from undergraduates. Participating in the event gives students research presentation experience and helps them understand early in their scientific careers that progress at the chemical and biological interface requires cross-fertilization from the broadest possible spectrum of these disciplines.
New this year were presentations by trainees from
STEM BUILD@UMBC
, an initiative funded by the National Institutes of Health to enhance the success of diverse STEM students at UMBC. 
This year's presenters hailed from a diverse range of institutions, from Harvard and Princeton to the University of New Mexico and Bryn Mawr College. The University of Delaware and James Madison University were particularly well-represented.