UMBC and UMB celebrate partnerships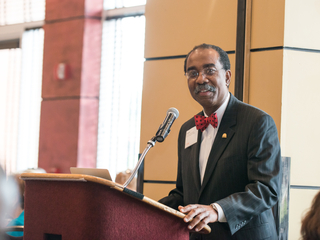 UMSOM Dean Reece reflects on research and teaching collaboration 
Campus leaders from UMBC and the University of Maryland, Baltimore (UMB) celebrated significant milestones in the growing partnership between the two research institutions at a lunchtime talk by University of Maryland School of Medicine Dean Albert Reece during the 2015 UMBC Retreat.
Held at the Institute for Marine and Environmental Technology (IMET) in downtown Baltimore on August 19, 2015, the event began with a warm welcome from UMB President Jay Perman, who shared his pride in how "we leverage the strengths of our two universities to build a robust research base" in Baltimore. 
President Perman first introduced several UMB leaders, including UMBC alumnus University of Maryland School of Dentistry Dean Mark Reynolds '78 and '81, M.S., psychology. He set a clear tone for the event. "We have a city in common that we care about," President Perman emphasized, "and we need to find ways to make the city that needs us better." 
UMBC President Freeman Hrabowski introduced Dean Reece as a committed partner in supporting innovative research and "a brilliant guy who cares deeply about our students." The collaborations Reece described in his talk spoke powerfully to that dual commitment to teaching and research that UMB and UMBC share. 
The UMBC-UMB Research & Innovation Partnership Seed Grant program demonstrates how UMBC and UMB can "accomplish so much more together than we would apart," Reece described. The program began in 2013-14 as a catalyst for the types of collaborations already underway among faculty at the two universities.
Initial projects
addressed a wide range of societal needs, from providing relief for victims of spinal cord injury to developing new targeted methods to deliver drugs through nanotechnology. 
In its second year the grant program expanded to include two tracks: Innovation Seed Grants of up to $50,000 for early-career researchers and Innovation Challenge Grants of up to $75,000 per year for two years for senior researchers. Recipients were announced in January 2015 at
an inaugural Research & Innovation Partnership Symposium
at UMBC, a special event to celebrate the rapid growth of our collaborative research programs. Planning is underway for a second symposium to be hosted at UMB. 
Reece also shared impressive results from joint UMB-UMBC graduate degree programs, in areas from gerontology to biochemistry and molecular biology. Students in these programs have completed notable research, receiving highly competitive fellowships and research grants from national agencies and publishing their findings in prominent journals. 
Looking at the Meyerhoff Graduate Fellows Program alone, in 2014-15 participants produced 43 peer-reviewed publications, including those in scholarly journals with high impact factors, such as the Proceedings of the National Academy of Sciences and The Journal of Infectious Diseases. This includes 14 first-author publications. 
The PROMISE program is another particularly strong partnership, with important impacts on student experiences and on higher education more broadly. Funded by the National Science Foundation, PROMISE is Maryland's Alliance for Graduate Education and the Professoriate (AGEP), which works to significantly increase the number of students in the sciences, technology, engineering and math from underrepresented populations who complete doctoral degrees and go on to become faculty. While UMBC leads PROMISE-AGEP, UMB is a vital collaborator and host of workshops and other training programs.
"Students have done extremely well," Reece reflected, "and it's a credit to the joint work we've done together." 
Reece also highlighted the burgeoning arts and culture partnership between UMB and UMBC, which came together recently for a special Center for Innovative Research in the Creative Arts (CIRCA) Catalyst event. Timothy Nohe, professor of visual arts and CIRCA director, serves as the UMBC lead on this initiative. 
One theme repeated throughout the event was, as President Hrabowski put it, "There are individuals who work with individuals" and "relationships we've had for years," but it is by identifying, formalizing, and strengthening our partnerships across disciplines that UMB and UMBC can have the greatest collective impact on Baltimore and beyond. 
 President Hrabowski concluded by affirming UMBC's ongoing commitment to building this vital relationship. He stated, "We accept Al's challenge on how we can take our research to the next level."