High performance computing REU Site program sets new records
Students from across US work w/ high profile clients at UMBC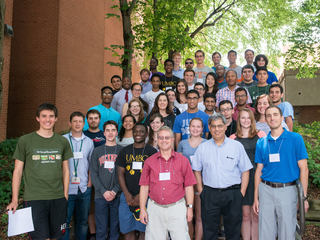 UMBC's unique undergraduate research summer program in high performance computing just hit a new record: enrolling 33 students from across the nation with funding over $350,000. Supported by the NSF, NSA, and DoD—in response to national needs—this eight-week 
Research Experiences for Undergraduates (REU) Site program
 combines training in scientific, statistical, and parallel computing with research in math and statistics applications. 
Matthias Gobbert, mathematics, and Nagaraj Neerchal, statistics, serve as program directors, with Bradford Peercy, mathematics, and Kofi Adragni, as co-PIs.
The program began in summer 2010 with eight participating students. This summer's participants include eight Meyerhoff Scholars from UMBC, plus students from universities like George Washington, UNC Chapel Hill, Bucknell, Penn State, Rutgers and Washington University in St. Louis.
Students work in teams on projects brought in by high caliber researchers from academia and industry, including clients like the University of Maryland School of Medicine, NIH, U.S. Census Bureau, and ParaTools, Inc. Their work includes using a 240-node supercomputer worth $1.5 million.