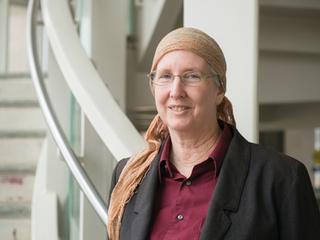 Even as a teenager, Lorraine Remer was fascinated by weather, tides and currents. At UMBC, she has made a career forging those key elements of climate into compelling research and a new business.
Remer, who is now a research faculty member in physics and at UMBC's Joint Center for Earth Systems Technology (JCET), recalls jumping at the chance to participate in the Mariners – a branch of the Girl Scouts launched in the early 1930's focused on the sea and maritime sciences.
Eventually Remer's interest in these forces and their effect on our environment led her to enroll in the atmospheric science program at the University of California, Davis, where she first obtained a B.S. and then her Ph.D. in the discipline. "I was looking for an environmental science that was hard science," she says.
Discovering the precise mathematical language to create weather maps or accurate pictures of the sky also impressed Remer. "The fact that you could represent what was going on in the atmosphere with math equations was just amazing," Remer recalls.
Math's simplicity is a boon that allows scientists to describe very complex things succinctly, she observes: "It takes a lot of words to describe the movement of a fluid, but I can write an equation and do it very simply. It's elegant."
Her continuing interest in the interactions between air and sea led Remer to the Scripps Institution of Oceanography at the University of California, San Diego to research and obtain a master's degree in that field as well.
In 1991, Remer was hired at NASA's Goddard Space Flight Center, working as the protégé of legendary NASA scientist Yoram Kaufman.
Remer's interest in the effects of aerosols on climate mirrored those of Kaufman, and she worked with him on algorithm development for the aerosol products on the Moderate Resolution Imaging Spectroradiometer (MODIS) sensors carried on the Terra and Aqua satellites. The MODIS sensors provide key environmental data on the health of our climate.
Kaufman's untimely death in 2006 was one factor in Remer's decision to leave government service and take a position with UMBC at JCET in 2011. Another factor was her desire to become more involved in the entrepreneurial side of research. Remer's first job in the private sector was at a Sacramento-based company called Atmospheric Research and Technology, and she had always been impressed by the example of Ed Berry, who successfully started the company at the height of a recession in the 1980s and actually created jobs with research.
Joining JCET has allowed Remer to follow in Berry's footsteps and do something that had been on her mind for a long time – start a company. Her business, AirPhoton, was started with co-founder and fellow UMBC researcher Vanderlei Martins, professor of physics. Not only does it design aerosol sampling instruments, but it also provides customized instrument design, satellite data analysis, and remote sensing algorithm development.
Remer's work at UMBC isn't all business, however. Her research interests at JCET remain rooted in her early love of climate science. She is particularly interested in the interplay between man-made land surface changes and particles in the atmosphere.
"I think it's really interesting," she muses, "the effect people have – and have had – on this planet."
– Nicole Ruediger
(Reposted from 
https://umbcmagazine.wordpress.com/umbc-magazine-spring-2015/discovery-spring-2015/#anchortides
)