Communicating Climate Symposium celebrates 20 years of JCET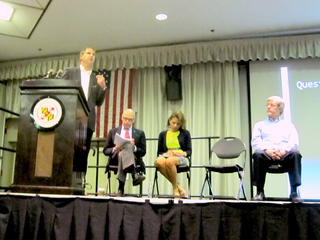 By Sarah Hansen
Members of the
Joint Center for Earth Systems Technology
(JCET) from UMBC and
NASA's Goddard Space Flight Center
met at UMBC on April 20, 2015 to explore what can be a thorny topic: communicating climate change to the public.  "The thing about earth science is it does indeed affect every person on the planet," said UMBC-JCET faculty member Susan Hoban, "but not every person on the planet speaks the language we speak to each other in the hallway."
Bridging the gap between scientific discourse and community conversation can be quite a leap, but it's a necessary one.  "It is great to do the work, but if nobody knows or understands what we are doing, then people will continue to believe that climate change is just a belief system," said UMBC Vice President for Research Karl Steiner.  "Having an opportunity today to learn how we as engineers and scientists can go out and bring our data to the broader community, and also down to Annapolis, down to Washington, wherever we go, is important." 
Three panelists gave advice for how scientists can more effectively engage the public.  Terri Adams-Fuller, Associate Professor of Sociology and Anthropology at Howard University, conducts research in crisis management.  She encouraged climate communicators to connect climate change, which can seem abstract, to people's immediate concerns, such as the economy, national security, or personal health. 
Thorsten Markus speaks during the symposium's climate communication panel. (Valerie Casasanto)
Thorsten Markus, JCET Fellow and Adjunct Professor of Physics at UMBC, expressed frustration that when scientists say, "I don't know for sure," the public often completely dismisses them.  "It's similar to when you go to the doctor, and the doctor says well, your blood pressure is high, your cholesterol is high.  You better change your diet, or you might have a stroke," he said.  "Do I then tell the doctor, 'Unless you tell me the exact date when I will have a stroke, I won't change a thing'?"  Markus acknowledged that there are uncertainties regarding how much humans are affecting climate, but argued that is not a reason to delay making changes.  He also urged us to recognize that our individual actions affect global systems.               
Steve Platnick, Deputy Director for Atmospheres at Goddard, focused on practical tips for reaching the public.  Knowing your audience is critical, he said, as well as making your presentation visual.  Tools like Twitter and mobile apps (check out "
NASA VIZ
") can make science more accessible by providing information in digestible chunks accompanied by compelling imagery.  He also recommended scientists use U.S. examples, such as the reduction of snowpack in California, light pollution, or over-development in the Las Vegas region. 
Following the panel, UMBC Sustainability Coordinator Tanvi Gadhia '09 and Assistant Vice President of Facilities Management Rusty Postlewate addressed initiatives at UMBC that have reduced the university's carbon footprint.  UMBC President Freeman Hrabowski signed the
American Colleges and Universities Presidents' Climate Commitment
in 2007, which entails a promise to work toward carbon neutrality and develop a "climate action plan."  The goal is to "make UMBC a living example of what it is to have a sustainable community and an engaged community," Gadhia said.  That involves bringing together diverse campus groups that address environmental issues and cultivating positive habits that students will maintain after they leave UMBC.    
But UMBC had already reduced campus carbon dioxide emission by 10,000 metric tons before Hrabowski signed the agreement, Postlewate is quick to point out.  Since 2007, UMBC has done even more to address climate change.  The community has grown by 18 percent, and the square footage of campus buildings has increased seven percent.  Even with that growth, electricity use has declined 24 percent and carbon dioxide emissions dropped an additional 10,000 metric tons because of upgrades to heating, cooling, and lighting systems and the addition of green roofs on a few buildings.  The
Performing Arts and Humanities Building
, completed in 2014, is certified LEED Gold, as was a
dorm addition
in 2013.
Kenji Williams performs
Bella Gaia.
(Valeria Casasanto)
To close the symposium, musician and filmmaker
Kenji Williams
performed his multi-faceted work
Bella Gaia (Beautiful Earth)
.  The film included everyday scenes from rural and urban India, Japan, and Egypt interwoven with worldwide modeling images of pollutant flow and accumulation, deforestation, carbon dioxide emissions, oil consumption, and other environmental factors, all backed by recorded music and Williams live on electric violin.  The effect was powerful.  "We have to engage people with their emotions," Williams said.  He reported that surveys show the number of people indicating that "Earth plays an important role in their personal and family lives" increased from 31 percent before watching the film to 64 percent afterward.
Communicating climate accurately and comprehensibly to the public is a challenge, but one scientists must rise to meet.  Using techniques like visualization and creating personal connections will help.  Demonstrating that our activities act on large time and spatial scales should, also.  If all else fails, remind them (as Markus reminded us) that, at least so far, "We don't have a Planet B."
Symposium attendees perform hands-on climate experiments during the reception. (Valerie Casasanto)