Technology Catalyst Fund jumpstarts inventions on campus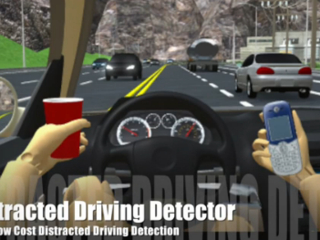 (At right: A still from an informational video about a distracted driving detection system project, available here.)
By Sarah Hansen
The
Office of Technology Development
(OTD) at UMBC granted its first Technology Catalyst Fund (TCF) awards of up to $25,000 in December 2014.  The money went to four projects spanning computer science to biology.  The awards were made possible by new funding from the state of Maryland designated to support the transfer of academic research into marketable products.  "The state is supporting anything that involves entrepreneurial activity," said Wendy Martin, OTD Director.  
Funding incipient projects with the TCF puts them in a better position to earn larger grants down the road.  Specifically, entrepreneurs from UMBC and four other Maryland universities are eligible to apply for funding from the
Maryland Innovation Initiative
(MII), sponsored by the Technology Development Corporation (TEDCO).  Some UMBC inventors have already earned MII awards.  "We're now seeing a lot of investors, venture folks, coming in and asking us, 'Hey, we understand you had this project funded by the MII, can we talk to the people involved?'" Martin said.
Distracted Driving Detection
A three-person team from
Computer Science and Electrical Engineering
won one of the awards for their distracted driving detection system.  Competitor systems track head motion, "but we're offering to make more precise measurements of the head as well as monitor other parts of the body," said Ryan Robucci, Assistant Professor in CSEE.  "All of it is proximity-based.  Nothing needs to be on the body of the driver—it's all embedded in the cabin," added
Nilanjan Banerjee
, Assistant Professor of CSEE and Robucci's teammate. 
They'll be using the funds primarily to purchase a simulator system, because "we can't actually induce dangerous driving behavior," said Robucci.  The team has already shown that the sensors function properly, but the big question now is whether the information the sensors collect can reliably indicate various types of driving behavior, such as "whether you have your hands on the steering wheel, whether you are drinking coffee, or whether you are drowsing off," said Banerjee.  Analyzing boatloads of data from a simulator will help them answer that question.  They also hope to build a complete prototype that could be retro-fitted into almost any vehicle.
This still from a video generated by the CSEE team shows Professor Patel testing the system, with the data output on the right.  The full video is available here.
The team, which also includes Professor of CSEE Chintan Patel, is already forming relationships with companies who are interested in the product.  "Statistics show that most accidents actually occur due to fleet vehicles, not personal vehicles," said Banerjee,  "so having a system like this that can capture distracted driving, and even more importantly, capture driving behavior, will help fleet managers choose which drivers they should recruit in the future."  Robucci points out that driving behavior data collected by the system could also be shared with drivers and incorporated into safety training programs.  After the simulations, the team plans to apply for the MII and federal funds to undertake tests in real fleet vehicles.
Taking a BiTE out of cancer
Professor of
Biological Sciences
Suzanne Ostrand-Rosenberg
and three graduate students are developing a cancer treatment called BiTES, or "bispecific T-cell engagers," with support from a TCF grant.  Cancer cells have the ability to shut down the attack ability of immune cells called T-cells, but BiTES may be able to prevent that shutdown.  The team is developing two BiTES that would be administered together.  One BiTE blocks two deactivating molecules, one on T-cells and one on cancerous tumor cells.  The second BiTE neutralizes one of these same molecules and also "super-activates" the T-cells.  In addition to stopping immune suppression, BiTES "can actually pull T-cells into close proximity with the tumor cells," said Lucas Horn, a PhD student on the team.  T-cells are naturally good at seeking out cancer cells, but "this sort of helps stack the deck a little bit," said Horn.
Members of the Rosenberg Lab.  Rosenberg and Horn are in the back row (Horn: brightest blue shirt, Rosenberg: white cardigan).
BiTES are not new.  "Other people have made BITES," said Ostrand-Rosenberg, "but they've never made BITES using these molecules, and they've never made a BITE that tried to block the immune suppression."  BiTES have huge advantages over traditional treatments.  "The side effects are nothing compared to chemotherapy or radiation therapy, and there's none of the patient pain associated with chemo or radiation," said Ostrand-Rosenberg.
Without the TCF funds, this project wouldn't have gotten off the ground.  The money buys supplies for two Applied Molecular Biology master's students, Kathryn Cronise and Munanchu Poudel, to work on the project.  Cronise points out, "That's something I was never aware of as an undergraduate researcher—just how much everything costs." 
But with the grant, the team has made a series of "quantum leaps," according to Ostrand-Rosenberg.  And this team, too, has its eye on additional funding to advance the project.  "If we can get any kind of data that show that these things work, we'll put in for a TEDCO," she said.
The other two winners include Professor of Chemical, Biochemical, and Environmental Engineering
Mark Marten
and
Yordan Kostov
, Assistant Director at the Center for Advanced Sensor Technology.  Wendy Martin is thrilled to see these projects taking off.  "We saw a need to provide pre-MII awards to folks who didn't quite have enough to submit a proposal for the MII award, which is bigger," she said.  "We are really, really, really excited.  It's been really great to start it and give out the first awards."