National Endowment for the Humanities Workshop at UMBC
Dresher Center and CAHSS host regional NEH Grants Workshop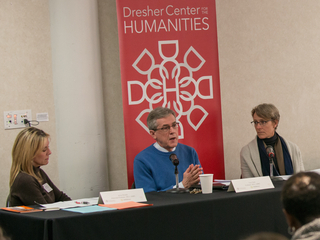 UMBC welcomed the National Endowment for the Humanities (NEH) for a regional grant-writing workshop on February 20, 2015. The workshop, conducted by the NEH's Division of Research Programs, was sponsored by the Dresher Center for the Humanities; the College of Arts, Humanities, and Social Sciences (CAHSS); and the Office of the Vice President for Research. 
Faculty participants from UMBC and seven area colleges and universities learned about NEH grant and fellowship programs, and special initiatives. The Maryland Humanities Council also spoke about its grant opportunities. A "mock" evaluation panel, led by UMBC NEH Fellows Kate Brown (History), Thomas Field (MLLI), and Anna Shields (MLLI), discussed the NEH proposal review process. Grant application-writing strategies were also shared. 
"The Dresher Center was pleased to welcome the NEH to campus," noted director Jessica Berman. "Workshops like these give a shot in the arm to researchers, who then begin to consider how their work fits into national priorities and initiatives. The workshop also showcased the strengths of UMBC faculty work in the humanities."
With an annual program budget of $108 million, the NEH awards grants to individuals and groups of humanities researchers at universities, museums, libraries and archives, and other cultural and educational organizations. These highly competitive grants, which are evaluated by scholars and other experts in their field, have an average award rate of between seven and ten per cent per year. If denied, NEH encourages applicants to re-submit.
The Endowment also supports public programs and special initiatives, like the new "Common Good: The Humanities in the Public Square," which seeks to bring humanities scholarship to public attention in new, significant ways. The NEH's Office of Digital Humanities provides grants to projects that integrate new technologies in humanities research, as well as those that study digital culture from a humanistic perspective. 
NEH-funded research projects often cross the disciplinary boundaries between the arts, humanities, and social sciences. At UMBC, NEH fellowships and grants have been awarded to CAHSS faculty in the departments of Africana Studies; English; Geography and Environmental Systems; History; Modern Languages, Linguistics, and Intercultural Communication; Political Science, Sociology-Anthropology, Theatre, and Visual Arts. 
For information on NEH programs, contact Rachel Brubaker, Assistant Director for Grants and Program Development, Dresher Center for the Humanities: rbruba1@umbc.edu. 
Photo (from left to right): Anna Shields, MLLI; Tom Field, MLLI; and Kate Brown, History