UMBC-UMB Partnership Awards a Catalyst for Collaboration
February 17, 2015 1:48 PM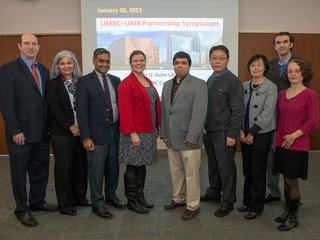 UMBC and UMB celebrate research partnerships with symposium and innovation grants.
Celebrating the rapid growth of our collaborative research programs, UMBC and the University of Maryland, Baltimore (UMB) joined together for an inaugural Research & Innovation Partnership Symposium on Friday, January 30, 2015.
UMBC President Freeman Hrabowski and UMB President Jay Perman greeted a standing-room only audience of faculty researchers, students, and research support staff, and reflected on the value of collaborative research for both institutions. Yvonne Maddox, acting director of the NIH Institute on Minority Health and Health Disparities (NIMHD), delivered a keynote address focusing on the need to expand research on health disparities and how our institutions can support diverse young researchers entering this field. Scientific talks presented by collaborative research teams that received UMBC-UMB Partnership Grants in 2013 and an interactive poster session rounded out the symposium agenda.
"We are thrilled about the positive response by our campus communities to this inaugural research symposium," stated Karl V. Steiner, UMBC's vice president for research. "It serves as an important milestone for us to take stock of how far we have come with our relationship, but to also recognize how much more work and opportunities still lay ahead."
The UMBC-UMB Research & Innovation Partnership Seed Grant program seeks to establish, enhance, and promote inter-institutional research collaborations between the two USM institutions and to stimulate joint grant proposals to federal agencies and foundations. USM Chancellor
William E. Kirwan
has
praised the program for its "focus on cutting-edge science and health concerns"
and its emphasis on interdisciplinary teamwork. The grant program is now in its second year, and the symposium offered an exciting stage to announce a new group of grant recipients.
This year's grant program consists of two tracks — Innovation Seed Grants of up to $50,000 and Innovation Challenge Grants for senior researchers for up to $75,000 per year for two years. The committee received 21 applications — nine for the innovation seed track and 12 for the innovation challenge track — and awarded funding to four teams of three researchers each.

Innovation Seed Grant recipients include the following teams
Ronghui Ma and Liang Zhu (UMBC, Mechanical Engineering) and Hongbing Wang (UMB School of Pharmacy)
Nirmala Roy and Aryya Gangopadhyay (UMBC, Information Systems) and Elizabeth Galik (UMB School of Nursing).
Innovation Challenge Grant recipients include the following teams
Raimi Quiton (UMBC, Psychology), Radi Masri, and David Seminowics (UMB School of Dentistry); 
Zeev Rosenzweig (UMBC, Chemistry and Biochemistry), Toni Antalis, and Rajabrata Sarkar (UMB School of Medicine).
Ronghui Ma, associate professor in mechanical engineering, is working with her colleagues to create a 3D-printed chip that will allow scientists to test drugs on cells from different organs at the same time. She says that with this work, made possible by the grant program, the team can provide a new model for drug testing.
Zeev Rosenzweig, chair and professor of chemistry and biochemistry, and his UMB colleagues are working to develop a new method to prevent or delay amputation in diabetes patients. He explains that his goal is to prepare an NIH proposal using the preliminary data obtained during the next two years of research. "Without this funding mechanism," Rosenzweig shares, "this collaboration wouldn't happen."
Kathleen Hoffman (UMBC, Mathematics and Statistics) and Asaf Keller (UMB School of Medicine)

Tülay Adali (UMBC, CSEE) and Kelly Westlake (UMB School of Medicine)

Charles Bieberich (UMBC, Biological Sciences) and Paul Shapiro (UMB School of Pharmacy)

Marie-Christine Daniel (UMBC, Chemistry and Biochemistry) and Peter Swaan (UMB School of Pharmacy)

Bradford Peercy (UMBC, Mathematics and Statistics) and Martin Schneider (UMB School of Medicine)
The grant recipients describe the program as having a dramatic impact on their work. "This program helped me start a whole new collaboration," says Kathleen Hoffman, professor of mathematics and statistics.
Charles Bieberich, professor of biological sciences, agrees. "Having a pool of money that I could apply for made me stop and think about whom at UMB I could reach out to and establish a collaboration," he says. "The funding acts as a catalyst to move the work forward."
The UMBC-UMB Partnership Grants program is supported by the Office of the Provost and Office of the Vice President for Research at UMBC, and by the deans of the UMB schools of medicine, pharmacy, nursing, and dentistry.
Photo Credit: Marlayna Demond
Pictured, left to right: Zeev Rosenzweig (UMBC), Toni Antalis (UMB), Rajabrata Sarkar (UMB), Elizabeth Galik (UMB), Nirmalya Roy (UMBC), Hongbing Wang (UMB), Ronghui Ma (UMBC), Radi Masri (UMC), and Raimi Quiton (UMBC)