Dr. Karl V. Steiner, Ph.D 
Vice President for Research & Creative Achievement
Professor, Mechanical Engineering
Affiliate Professor, Computer Science & Electrical Engineering
University of Maryland, Baltimore County
steinerk@umbc.edu
Biography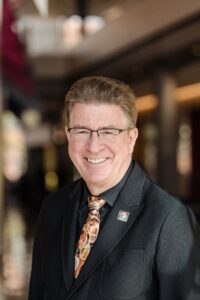 Dr. Karl V. Steiner serves as the Vice President for Research & Creative Achievement and holds the academic rank of Professor in the Department of Mechanical Engineering and an affiliate appointment as Professor in the Department of Computer Science and Electrical Engineering at the University of Maryland, Baltimore County (UMBC).
Dr. Steiner joined UMBC in September 2013, continuing a successful research and administrative career at the University of Delaware (UD), where he ascended to the position of Senior Associate Provost for Research Development, and held academic appointments as Professor in the Department of Electrical & Computer Engineering and in the Biomedical Engineering Program.
Dr. Steiner led UMBC's effort to achieve Carnegie R1 status, as designated in 2022 by the Carnegie Foundation for the Advancement of Teaching, recognizing UMBC as a Doctoral University with Very High Research Activity and placing the institution among the top 146 research universities in the Nation.  UMBC is one of three institutions in Maryland with Carnegie R1 status.
Dr. Steiner has been growing UMBC's research reputation and funding portfolio by building on our existing vibrant, interdisciplinary and collaborative culture supporting research, scholarship and creative achievement. UMBC's key research themes are focused on Environmental Sciences, especially Atmospheric Physics & Remote Sensing, Earth & Space Sciences, and Ecology & Remediation; on Health & Life Sciences, including Marine Biotechnology, Aquaculture, and Health Sciences; on Data Sciences & National Security, with special focus on Cybersecurity, Artificial Intelligence & Autonomy, Cognitive Computing, and Big Data Analytics; on Civic Engagement, including Health Equity and Policy Studies, as well as on Public Humanities and Art.
Recent results include strategic efforts to establish sustainable research partnerships between UMBC and the professional schools at the University of Maryland, Baltimore, including a strategic partnership with UMB under the Institute for Clinical and Translational Research (ICTR), successful, competitive renewals for three Cooperative Research Centers with NASA Goddard Space Flight Center valued at over $150 million to UMBC over five years, an award from the National Institute for Standards and Technology (NIST) to MITRE, UMBC and other academic partners, for the creation of the National Cybersecurity FFRDC (NCF) focused on non-defense cybersecurity issues; and international leadership to launch the International Cybersecurity of Excellence (INCS-CoE), a research partnership with leading Universities in the United States, the United Kingdom and in Japan.
Dr. Steiner continues developing sustainable research partnerships with academic institutions and federal labs in Maryland and across  the region; promoting economic development efforts through the bwtech@UMBC  incubator; and initiated international research partnerships with leading institutions in Europe, Israel, India, and Japan.  He currently serves as Chair of the Board for the international Cybersecurity Center of Excellence (INCS-CoE) and as a member of the Executive Committee for APLU-CoR – the Council on Research for the Association for Public & Land-Grant Universities.
Dr. Steiner established innovative mechanisms and events to recognize faculty achievements across campus, including UMBC's community of innovators; UMBC's senior faculty that have achieved Fellow status at professional associations or societies and UMBC's growing community of NSF-CAREER award recipients. These initiatives have enhanced both the internal and external visibility of the many research achievements of UMBC faculty and have been highly effective to foster peer group support across the campus.
At the University of Delaware Dr. Steiner has served in leadership roles for numerous major multi-disciplinary programs, including several Centers of Excellence, funded by the Department of Defense (ARO, ARL, ONR, DARPA), the National Science Foundation, the National Institutes of Health, the Department of Energy, the State of Delaware, foundations and the private sector. He has been instrumental in securing and leading over $150 million in externally funded programs for research and infrastructure programs supporting institutional, statewide and regional initiatives.
He served in key leadership positions for the Delaware Health Sciences Alliance (www.dhsa.org), Delaware Biotechnology Institute (www.dbi.udel.edu), the Fraunhofer Center – Delaware (www.fraunhofer.org) and the Center for Composite Materials (www.ccm.udel.edu). He served as Principal investigator on the NIH-NIGMS-funded IDeA Network of Biomedical Research Excellence (INBRE) a statewide partnership among Delaware's academic and medical institutions, to develop a competitive and sustainable biomedical research capability and represented Delaware on the Board of the National EPSCoR/IDeA Foundation.
Dr. Steiner received his Doctorate in Engineering in Mechanical Engineering from the Institute for Composite Materials (www.ivw.uni-kl.de) at the University of Kaiserslautern in Germany, his Master's degree in Electrical & Computer Engineering from the University of Delaware (www.udel.edu) and completed his Engineering Diploma in Electrical Engineering and Information Technologies at the Technical University Braunschweig/Wolfenbüttel – now known as Ostfalia – in Germany (www.ostfalia.de).
His recent research activities have been focused on interactive immersive visualization methodologies for the life sciences, primarily in complex multi-variant data analysis and in biomedical imaging with a focus on virtual surgery simulations. In 2003, Dr. Steiner was recognized for his work on immersive visualization in the life sciences as a Computerworld Honors Laureate during a reception at San Francisco's City Hall.
Dr. Steiner has advised or co-advised 23 Ph.D. and master's students, and over 40 senior theses by undergraduate students. He has been instrumental in establishing successful exchange programs with the German Carl Duisberg Society and other academic institutions that have enabled over 30 exchange students from across Europe to conduct a part of their research training at UD.
Dr. Steiner has contributed over 85 technical publications to international journals and conference proceedings, related to computer visualization, image analysis methodologies, haptic simulations, nondestructive evaluation and manufacturing science. He serves as frequent member on NSF review panels and NIH study sections and as a program review member for AAAS.  Dr. Steiner has served as conference and session chair in numerous regional and national technical conferences and workshops, as reviewer for journals focused on composite materials and nondestructive testing, and is presenting invited research seminars and presentations at international conferences, academic institutions and industrial sites across the world.
Recent Publications
Guo, X., L.D. Lopez, K.V. Steiner, K.E. Barner, T.L. Bauer and J. Yu, "A Portable Immersive Surgery Training System Using RGB-D Sensors," Medicine Meets Virtual Reality – MMVR 20, San Diego, CA, February 2013.
Kokkoni, E., D. Paul, A. Mackley, K.V. Steiner, E. Gadin, K. Anzilotti, C. Galloway, and M. Lobo, "Object exploration in the first years of life may be primarily unimanual for infants with Cerebral Palsy. Preliminary evidence," American Academy for Cerebral Palsy and Developmental Medicine (AACPDM), Toronto, Canada, September 2012
Paul, D., A. Mackley, M. Lobo, K. Anzilotti, K.V. Steiner, C. Galloway, "Motor Delay in Preterm Infants is Not Associated with Changes in Cerebellar Volume Measured Prior to Hospital Discharge," Pediatric Academic Societies (PAS), Boston, MA, April 2012.
Hu, R., K. Barner, J. Yu, K.V. Steiner, "A Non-photorealistic Surgery Simulation System," Medicine Meets Virtual Reality – MMVR 19, Los Angeles, CA, February 2012.
Hu, R., K.V. Steiner, J. Yu, K. Barner, "An Accelerated Haptic Feedback Algorithm Utilizing Volume Reconstruction", Medicine Meets Virtual Reality – MMVR 19, Los Angeles, CA, February 2012.
Gadin, E., M. Lobo, D.A. Paul, K. Sem, K.V. Steiner, A. Mackley, K. Anzilotti, C. Galloway, "Volumetric MRI and MRS and Early Motor Development in Premature Infants," Pediatric Physical Therapy, January 2012.
Hu, R., K. Barner and K.V. Steiner, "A Generalized Haptic Feedback Approach for Arbitrarily Shaped Objects," Medicine Meets Virtual Reality – MMVR 18, Newport Beach, CA, February 2011.
Sikes, R., R.L. Duncan, K. Lee, K. Czymmek, K.V. Steiner, A.K. Rajasekaran, M. Iacocca, B. Rabeno, Z. Ali Khan Catts, A. Joseph, B. Boman and N. Petrelli, "The Center for Translational Cancer Research: A Collaborative Effort Between the Helen F. Graham Cancer Center at Christiana Care, the University of Delaware and the Nemours Research Institute," Oncology Issues, February 2011.
Bauer, T. and K.V. Steiner, "Virtual Bronchoscopy: Clinical Application and Limitations," Surgical Oncology Clinics of North America, Pre and Postoperative Cancer Imaging: Practical and Innovative Approaches," Vol. 16, No. 2, Editors: S. H. Kurtzman and N. J. Petrelli, Saunders Company, April 2007.
Steiner, K.V., M. Teixido, B. Kung, M. Sorenson, R. Forstrom and P. Coller, "A Virtual-Reality Approach for the Treatment of Benign Paroxysmal Positional Vertigo," Medicine Meets Virtual Reality – MMVR 15, Long Beach, CA, February 2007.