UMBC launches cybersecurity research collaboration
to focus on infrastructure; partners are in Japan and the UK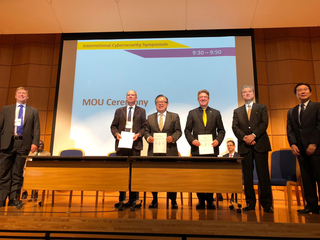 UMBC is one of three leading academic institutions collaborating on a new research initiative focused on cybersecurity for critical national infrastructures, including information technology, public transit, and financial services. University leaders signed the three-nation agreement in a ceremony at the sixth International Cybersecurity Symposium in Japan.
UMBC, Keio Research Institute (KRIS) in Japan, and Royal Holloway University of London (RHUL) in the UK will partner to investigate the use of common system simulation tools for modeling critical national infrastructure. This partnership is part of a broader international collaboration, the International Cybersecurity Center of Excellence (INCS-COE). It will also involve Hitachi, an international operator in power systems, telecommunication, railways, and other core infrastructure areas.
Because cybersecurity attacks may not be limited to national borders, this collaboration argues that defense against such attacks should not be siloed either.
"Cybersecurity can no longer be treated as a national issue," emphasizes Karl V. Steiner, vice president for research at UMBC. "Long-term and productive international collaborations are needed to make significant progress."
Jun Murai, professor of environment and information studies at Keio University, notes, "We look forward to working with our research colleagues in the UK and U.S. to help address the increasingly challenging cyber threats to the security of our respective critical national infrastructures."
University leaders, including Karl V. Steiner, third from right, signed the three-nation agreement in a ceremony at the sixth International Cybersecurity Symposium in Japan. Photo courtesy of Karl V. Steiner.
Left to right:  Paul Madden CMG, British Ambassador to Japan; Keith Mayes, Head of the School of Mathematics and Information Security, Royal Holloway, University of London; Jun Murai, Dean and Professor, Graduate School of Media and Governance, Keio University; Karl V. Steiner, Vice President for Research, UMBC; Akira Haseyama, President, Keio University; Satoru Tezuka, Director, Cyber Security Research Center, Keio University.
Working with a common toolset will enable mixed nationality teams to run simulations together. This will help cybersecurity experts learn how to more effectively address human factors, including cultural differences, in predicting how attacks and responses to those attacks might play out across different geographies.
"We are excited to participate in this new research collaboration with our colleagues in Japan and the UK to help us better understand and address some of the key cybersecurity challenges that our nations face from increasingly aggressive international adversaries," says Anupam Joshi, director of UMBC's Center for Cybersecurity.
The partners in this research see the modeling of system security as increasingly vital for industry and government, for both training purposes and vulnerability analysis.
"This initiative creates many future opportunities including, for example, the opportunity to address the impact on critical national infrastructure security of the exponential growth of the internet of things, and for potential exchanges of expert staff and students," explains Keith Mayes, head of the Information Security Group (ISG) at Royal Holloway University.
Steiner shares Mayes's excitement about expanding opportunities for both established and emerging researchers in this growing field. Thanks to leading academic programs in cybersecurity, the bwtech@UMBC Cyber Incubator, and UMBC's internationally-known Center for Cybersecurity, he says, "UMBC is uniquely positioned in Maryland to become a major global force for research in cybersecurity."
"This partnership," says Steiner, "builds important connections to move this essential work forward."