Stuart Schwartz Recognized for Sustainable Concrete Project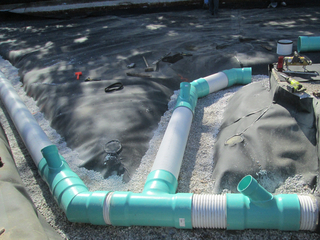 Dr. Stuart Schwartz of UMBC's Center for Urban Environmental Research and Education is being recognized for his latest project in collaboration with the Maryland Science Center.
The project involved replacing about 3700 square feet of an existing concrete parking lot at the Maryland Science Center with pervious concrete, a type of concrete that allows water to pass directly through which reduces runoff. This showcase "green infrastructure" project took advantage of the educational mission of the Maryland Science Center, as well as the location in the urban heart of the Chesapeake Bay. 
The project has since been nominated and selected for a 2017 "Excellence in Concrete" award from the MD Chapter of the American Concrete Institute (ACI), to be presented at the ACI annual meeting at the Baltimore Engineers Club in Mt. Vernon.