Govind Rao Receives 2017 Pioneer Award
Creating technologies that empower patients and save lives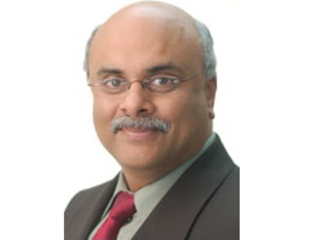 This article was first published

here

and was written by Megan Hanks.
Connected World
has named
Govind Rao
, director of the Center for Advanced Sensor Technology (CAST) and professor of chemical, biochemical, and environmental engineering, a 2017 Pioneer Award recipient. He joins nine trailblazers whom the magazine describes as "the disruptors forging new pathways in this ever-emerging digital age."
During his career, Rao has created technologies that have revolutionized how doctors and hospitals provide care to patients of all ages and from around the world. "This recognition was unexpected, as it comes from a different discipline," he said of the award. "It illustrates the power of sensor technology to have a broad impact."
One technology Rao developed has created a more personalized approach to monitoring metabolic parameters in adults. For example, when patients have their blood pressure and heart rate checked by a medical professional, these numbers are often compared only with the average levels of the population, which may not reflect how the individual differs from the general population. Rao and his team are creating "next-generation sensors" that collect more accurate readings, and monitor and track over time individual carbon dioxide, glucose and oxygen levels. The sensors can allow healthcare providers to receive real-time data for the management of diseases such as diabetes, asthma, emphysema and lung infections. The up-to-date data will allow healthcare professionals to provide more tailored care.
As
Connected World
describes, Rao's work is "aimed at giving patients better control over their personal health and enabling solutions that are specific to patients' needs."
Rao and his team are also known internationally for developing affordable infant incubators that are powered by solar rechargeable batteries. These devices, made from cardboard, are particularly important in preventing deaths among newborn babies in low- or middle-income countries with gaps in healthcare resources. Infants born in low-resource communities often have higher rates of mortality in the first week of life due to preventable causes such as hypothermia and sepsis, so the incubator was designed with their needs in mind.
Read "
Scholars Changing our World Through the IoT
" in Connected World to learn more about Rao's work and the other Pioneer Award recipients.