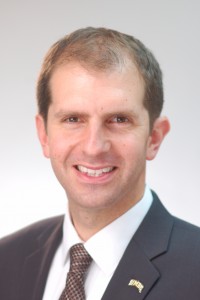 Brief Bio
Dr. Don Engel is a professor and the Assistant Vice President for Research at the University of Maryland, Baltimore County (UMBC). As AVPR, Don leads UMBC's Office of Research Development. Don's research is on the applications of visualization and artificial intelligence (esp. image processing and computational linguistics) to data-driven discovery (esp. in the physical and life sciences). After completing a Ph.D. in physics and master's in computer science, Don spent several years working for Congress and executive branch agencies as a science and technology policy advisor. Don's background also includes clinical experience as a resident in radiation oncology medical physics.
Contact Information
Google Voice — 410-929-3643 (e-mail is strongly preferred)
Office Phone — 410-455-2837 (e-mail is strongly preferred)
Office — ITE Building, Room 220
Laboratory — ITE Building, Room 201B
Current Roles at UMBC
Education and Professional Experience
2011 onward — UMBC
2010-2011 — Senior Consultant — Deloitte
2009-2010 — Postdoctoral Fellow and Medical Physics Resident — Johns Hopkins University
2007-2008 — APS Senior Science Policy Fellow — Washington, DC
2006-2007 — AAAS/APS Congressional Fellow — Office of Rush Holt (NJ-12)
2001-2006 — Physics Ph.D. — University of Pennsylvania
2000-2001 — Computer Science Sc.M. — Brown University
1998-2000 — Math-Physics Sc.B. — Brown University
1996-1998 — Math, Physics, Computer Science, and Astronomy major — UMCP
Courses Taught
Fall 2019 – CMSC 463/636: Data Visualization
Fall 2014 — Physics 100: Ideas in Physics
Selected Grants
"EAGER: Learning Language in Simulation for Real Robot Interaction" (Co-PI) – $219,516
12/01/19 – 11/30/20
"Understanding, Assessing and Improving Student Teamwork (Implementation & Research Grant)" (Co-I)
07/01/19 – 06/30/21
Hrabowski Innovation Fund – $27,736.
"Pi Squared Founding Sponsorship"
06/30/16 – 06/29/19
Next Century Corporation – $50,000
"NCCoE – FY17 Research."
04/01/16 – 09/30/17 (Co-PI)
MITRE Award – $73,445.
"MRI: Acquisition of π², a CAVE2-Inspired Display for Discovery Science, Creativity, and Education"
09/01/15 – 08/31/19 (PI)
NSF Award #1531491 –  $377,994
"CC*IIE Networking Infrastructure: Enabling Big Computing and Data Intensive Cyberinfrastructure (EBCDIC)"
09/01/14 – 08/31/17  (Co-PI)
NSF Award #1440477 – 

$500,000
Affiliations
Member, American Association for the Advancement of Science (AAAS)
Member, Association for Computing Machinery (ACM)
Member, American Physical Society (APS)
Member, National Organization of Research Development Professionals (NORDP)
Selected Publications
Ahuja, R., Khan, D., Symonette, D., desJardins, M., Stacey, S., & Engel, D. (2019) A Digital Dashboard for Supporting Online Student Teamwork. CSCW 2019, In Press.
Engel, D., Murnane, M., Trenholm, N., Daniels, B., & Halverson, J. (2019) Open-Source Presentation of Spherical Content on Repurposed Hardware. IEEE VIS 2019, In Press.
Murnane, M., Breitmeyer, M., Ferraro, F., Matuszek, C. & Engel, D. (2019) Learning from Human-Robot Interactions in Modeled Scenes. Proceedings of ACM SIGGRAPH 2019, In Press.
Carter, J., Delahanty, D., Strasser, J., Knoedlerr, A., Wilson, G., Davis, R. and Engel, D. (2019) Operational and Fiscal Management of Core Facilities: A Survey of Chief Research Officers. Journal of Research Administration, In Press.
Murnane, M., Breitmeyer, M., Matuszek, C. & Engel, D. (2019) Virtual Reality and Photogrammetry for Improved Reproducibility of Human-Robot Interaction Studies. Proceedings of the IEEE Conference on Virtual Reality and 3D User Interfaces (IEEE-VR), In Press.
Bender, G., Lehmann, A., Zou, H., Cheng, H. Fry, H., Engel, D., Therien, M., Blasie, J., Roder, H., Saven, J., & DeGrado, W. (2007) De Novo Design of a Single-Chain Diphenylporphyrin Metalloprotein. Journal of the American Chemical Society 129(35), 10732- 10740.
Geremia, S. Di Costanzo, L., Randaccio, L., Engel, D., Lombardi, A., Nastri, F., & DeGrado, W. (2005) Response of a Designed Metalloprotein to Changes in Metal Ion Coordination, Exogenous Ligands, and Active Site Volume Determined by X-ray Crystallography. Journal of the American Chemical Society 127(49), 17266-17276.
Engel, D. & DeGrado, W. (2005) α-α Linking Motifs and Interhelical Orientations. Proteins: Structure, Function, and Bioinformatics 61, 325-337.
Lahr, S., Engel, D., Stayrook, S., Maglio O., North, B., Geremia, S., Lombardi, A., & DeGrado, W. (2005) Analysis and Design of Turns in α-Helical Hairpins. Journal of Molecular Biology 346, 1441-1454.
Engel, D., Senes, A., & DeGrado, W. (2004) Folding of helical membrane proteins: the role of polar, GxxxG-like and proline motifs. Current Opinion in Structural Biology 14, 465-479.
Engel, D. & DeGrado, W. (2004) Amino Acid Propensities are Position-Dependent Throughout the Length of α-Helices. Journal of Molecular Biology 337, 1195-1205.
Engel, D., Charniak, E., & Johnson, M. (2002) Parsing and Disfluency Placement. In Proceedings of the 2002 Conference on Empirical Methods in Natural Language Processing, pages 49-54.
News Articles