The U.S. export regulations impacts travel as well as restrict imports and exports to certain destinations without a U.S. Government authorization – an export control license. In specific situations, and in compliance with export control regulations, such authorization must be obtained before obtaining a license, The ORPC will consult with the below agencies as to whether a license and/or permission is required.
US Government Resources
Department of the Treasury (OFAC)–  Sanctioned Programs and Countries 
Department of Commerce (EAR) – EAR Part 746 embargoes  and restricted entities on the EAR Entity Chart
Department of State (ITAR) – ITAR policies towards specific countries
National Aeronautics and Space Administration (NASA) –NASA maintains a list of "Designated Countries" identified by US government agencies as sponsors or supporters of terrorism or under sanction or embargo. Investigators funded by NASA are advised to consult this list if planning to collaborate with persons from these countries or traveling to ( or through) and wishing to connect electronically to NASA resources.
Some countries can require a specific license that may take several weeks to obtain. A list of countries and regulatory requirements are found below (courtesy of University of Pittsburgh, Office of Trade Compliance).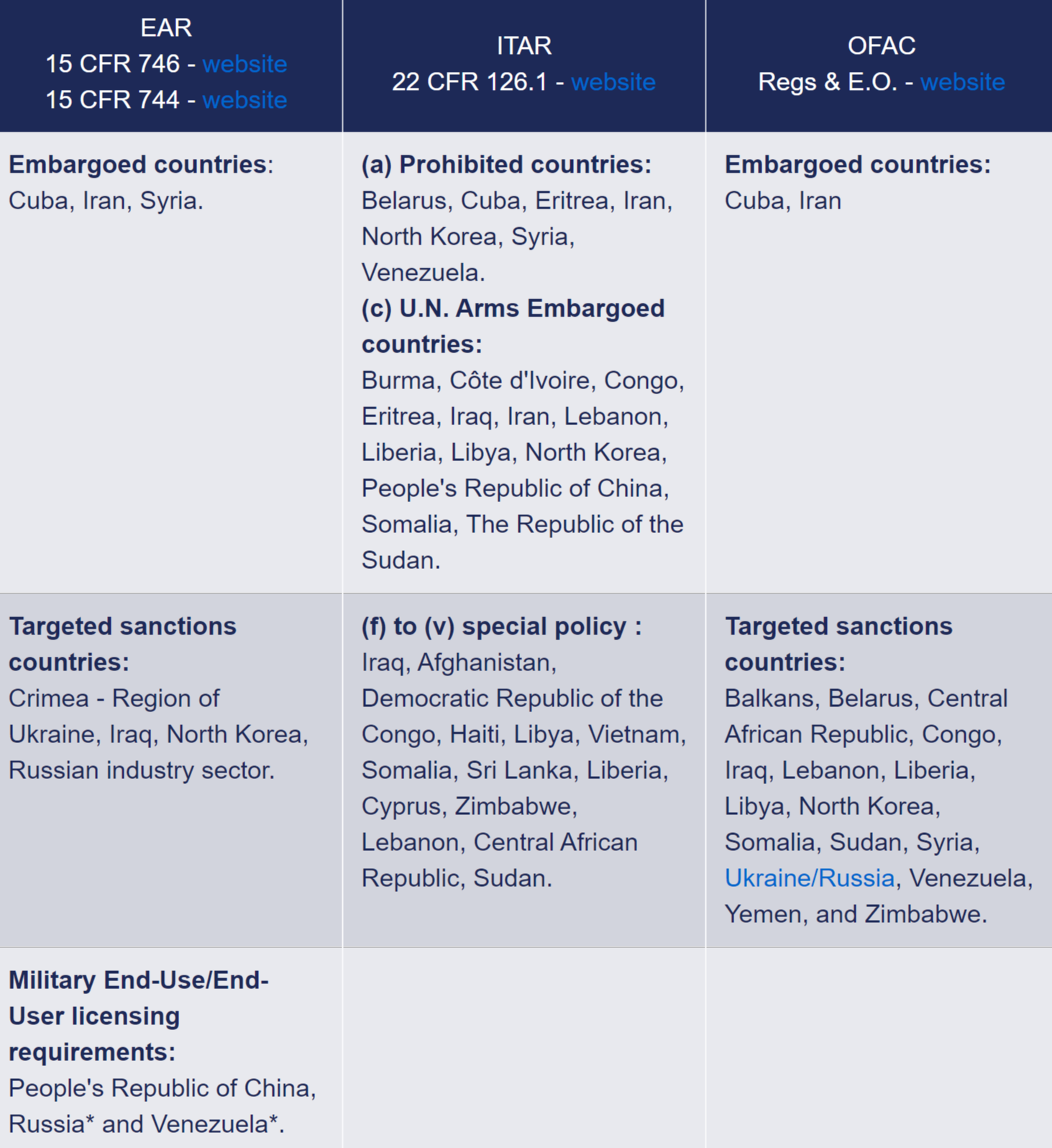 In general, contact the ORPC well in advance (a three week minimum) for:
Any planned travel to Iran
Transactions (imports and exports of equipment, data, software) with embargoed countries. These transactions are prohibited without a license authorization.
Exports of certain items, including data and/or software to countries which have government targeted sanctions or have military end-user licensing requirements without authorization.
Country/Region Specific Guidance
Faculty planning on working with Iranian collaborators and students should review this.
Current information on Russia-related Sanctions and Export Restrictions
NASA Restrictions on Funding Activities with China
Please forward questions to the ORPC at compliance@umbc.edu.
updated 12/22/2022