Director of NOAA's National Weather Service visits UMBC
September 27, 2013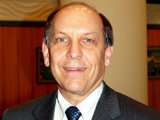 Dr. Louis W. Uccellini, Director the National Oceanic and Atmospheric Administration's National Weather Service (NOAA-NWS) visited with UMBC faculty and leadership.
UMBC President Freeman Hrabowski welcomed Dr. Uccellini to campus, and actively participated in the research presentations by faculty.
Dr. Uccellini presented an overview of the mission, priorities and objectives of the National Weather Service and discussed opportunities for academic collaborations.  NWS's new focus on impact-based support services approach due to evolving societal needs has four key elements:  a better understanding of societal impacts, making information more relevant to decision makers, participating directly in decision making for those decisions fundamental to the role of government, especially the protection of life and property, and counting on market forces to provide diverse decision-support services across the entire economy.
Faculty presentations included an overview of the Center for Hybrid Multicore Productivity (CHMPR) by Director Milton Halem, an overview of the Center for Urban Environmental Research and Education (CUERE) by Director Claire Welty, a description of precipitation measurement research underway at the Joint Center for Earth System Technology (JCET) by Dr. Ali Tokay, an description of thunderstorm simulations and analytics by Jeff Halverson in Geography and Environmental System, a presentation on midwave infrared imaging sounders by Larrabee Strow in Physics, followed by an introduction of the work conducted by StormCenter Communications, a company located at the bwtech@UMBC Business Park, by Director Dave Jones.
Dr. Uccellini was named director of the NWS in February 2013. He began his weather career at the Goddard Space Flight Center's Laboratory for Atmospheres as the section head for the Mesoscale Analysis and Modeling Section in 1978. In 1989, he joined the NWS as chief of the Meteorological Operations Division and then became director of the Office of Meteorology in 1994. Since 1999, Uccellini has led the NWS's National Centers for Environmental Prediction, which in 2012 moved to a new state-of-the-art facility in College Park, MD.