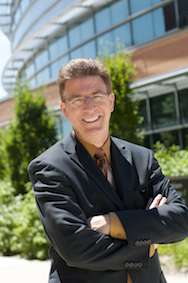 The Office of the Vice President for Research (OVPR) serves as an advocate for UMBC's research community, and supports our faculty, staff and students as they pursue research, scholarship and creative activities across all levels.
We are proud of our successful partnerships with federal and state agencies, foundations and the private sector. Our research efforts are based on strengths in the arts, engineering, humanities, information technology, natural and mathematical sciences, public policy and social sciences. Together, we catalyze interdisciplinary collaboration and education, and create new economic opportunities through the transfer of inventions and technologies. OVPR is organized into four offices that interact closely with each other: the Office of Research Development (ORD), the Office of Sponsored Programs (OSP), the Office of Research Protections and Compliance (ORPC), and the Office of Technology Development (OTD).
Our faculty have received prestigious honors, including Fulbright and Guggenheim fellowship, almost 30 NSF Career Awards, Presidential Early Career Awards in Science and Engineering (PECASE), HHMI Investigator awards and NASA's 2012 Distinguished Public Service Medal.
We are a rapidly growing Carnegie Research ranked university with an annual research portfolio of about $75 million. With our strategic location between Baltimore, MD and Washington, DC — in close proximity to major national labs and key industry leaders — we are well positioned to meet the research needs of our partners and help create the highly educated workforce needed for tomorrow's economy.
We hope this site will be a frequent destination for our corporate and governmental partners, for the campus community and the public at large. As our Nation and the international community face environmental, technological, political, economic and social challenges, UMBC's core values of diversity, excellence and innovation will propel us forward to meet these challenges.
We welcome you to the UMBC research site, invite you to return frequently and look forward to hearing from you.
Karl V. Steiner
Vice President for Research
Professor, Mechanical Engineering
steinerk@umbc.edu
410-455-5636