UMBC host startup round table for faculty-founded startups
September 1, 2016 12:46 PM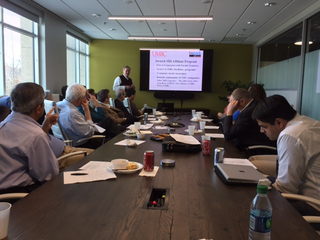 On August 24, 2016, UMBC's Office of Technology Development held its second UMBC Startup Round Table which was attended by about a dozen faculty who have or are planning to start a company.  Also in attendance were representatives from BwTech.  There was a great presentation from the law firm Rubin and Rudman LLP regarding the pros and cons of the different types of corporate organizations. 
In addition, UMBC/JCET faculty Lorraine Remer and Vanderlei Martins discussed their startup, Airphoton which is located in bwtech incubator space on the South Campus.   Guests remarked as they left how interesting the discussion was and how beneficial the discussion was to the group. 
UMBC's OTD would like to thank the law firm Rubin and Rudman LLP and their representatives Judith Kim, Peter Finn, and Xiaoxiang Liu for the presentation, and bwtech for the use of their conference room.