Prof. Slaughter re-imagines life-saving medical devices
No batteries required
February 29, 2016 3:29 PM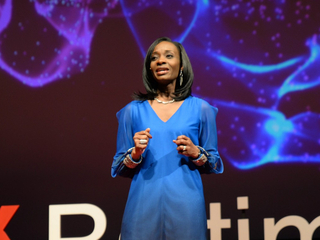 Gymama Slaughter
offered a thrilling glimpse into the future of medicine at
TEDxBaltimore
, held January 14, 2016, at Morgan State University. Slaughter, assistant professor of computer science and electrical engineering (CSEE) at UMBC, spoke about her research to develop an implantable glucose sensor powered by chemical reactions in the human body, supported through a
prestigious NSF CAREER award
.
This year's TEDxBaltimore focused on "outliers"—ideas that challenge conventional thinking—with Slaughter speaking in a segment highlighting new concepts, perspective, and inventions that will influence the world in the years to come.
Despite the fact that batteries power much of our daily lives—from our cars and phones to pacemakers—"the basic construction of batteries has not changed in 100 years," Slaughter explained. She sees a paradigm shift around the corner as demand for more efficient and effective technologies increases, and scientists push up against the limitations of current battery designs.
"If we could only remove batteries from the equation," said Slaughter, "all of a sudden, we would have truly wearable and implantable sensors."
In her work in the Bioelectronics Lab at UMBC, Slaughter concentrates on how chemical processes occurring naturally in the human body can power medical devices and eliminate the need for batteries in, for example, blood glucose monitors. She predicts that, soon, implanting human-powered monitors a few millimeters below the skin will allow diabetic patients to continuously monitor their blood sugar-levels without finger-prick tests several times each day.
This continuous monitoring would also result in more accurate data for physicians. Slaughter anticipates that eventually blood-monitoring devices will be able to automatically and securely transmit data to smart phones for easy access to the information, resulting in better blood sugar monitoring and diabetes management.
The concepts behind this next-generation implantable blood-glucose sensor have "far reaching implications for medical devices," Slaughter shared. "What we are doing at the Bioelectronics Lab at UMBC is something very unique," she said. "We are developing devices that are self-powered," and that opens up a whole new world for engineers working at the forefront of medical technologies.
Images: Gymama Slaughter presenting at TEDxBaltimore on January 14, 2016. Photos by TEDxBaltimore, CC by NC-ND 2.0.