Deborah Rudacille awarded Guggenheim Fellowship
To pursue writing project on addiction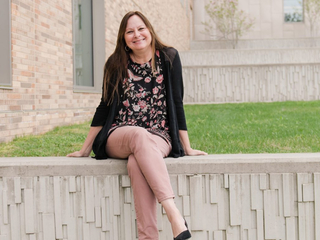 Deborah Rudacille, professor of the practice in English, has received a Guggenheim Fellowship for Science Writing. She is one of only two recipients in the category this year, and one of 173 new fellows in all fields, selected from a pool of more than 3,000 applicants from the U.S. and Canada.
Rudacille will spend the 2017 – 2018 academic year researching and writing "The Family Disease: Alcoholism, Addiction, and Inheritance." This work continues her legacy of writing about scientific topics for broad public audiences in a way that is engaging, nuanced, and resonates with her readers.
The English professor's previous writing has focused on topics such as gender identity, working class communities, animal rights, and autism. "In all of my work," she shares, "I'm always trying to illuminate something that I feel is not very well understood."
"I think the more knowledge that is generated and the more we understand things, sometimes things that we find very scary or frightening, the better we are able to make good policy decisions and personal decisions on the basis of science," Rudacille explains.
In her new project, Rudacille plans to focus on how addiction affects family, friends, and colleagues of those who struggle with it, noting that almost everyone has been touched by addiction in some way. She'll interview people struggling with addiction or in recovery and their personal networks, as well as researchers in fields such as neurobiology, genetics, psychology, and sociology.
"I'm a believer in the disease model of addiction, but I'm also not discounting the social factors," Rudacille notes. "I'm interested in teasing all that out and also helping to reduce the shame and stigma around addiction."
"One of the things I admire most about Deborah's work is her dedication to articulating the stories…of those who cannot or will not speak for themselves, as well as her willingness to attend to the historical context that informs these stories," shares Orianne Smith, professor and chair of English.
Dean Scott Casper, of the College of Arts, Humanities, and Social Sciences, says, "With the Guggenheim Fellowship, Professor Rudacille is being honored for what makes her work so exemplary, and so important for UMBC: her humanistic approach to essential scientific issues."
After publishing several books, Rudacille shifted her focus to teaching and shorter writing forms. She joined the UMBC faculty in 2012, and since then has created four new courses and taken steps with colleagues in the English and biological sciences departments to develop a minor in science writing. When she returns to UMBC, Rudacille says, "I'm sure I'll develop new courses based on having the time to think through ideas about new approaches and new topics."
"I believe part of what I've been doing at UMBC is giving students the same kind of support that I received from my many mentors as I grew my career, and also passing on skills to my students," says Rudacille. "In another 10 or 15 or 20 years, one of them is going to be getting a Guggenheim or a Pulitzer or some other prize and I'll be able to say 'I taught them!'"