UMBC's cloud-measuring small satellite is heading to space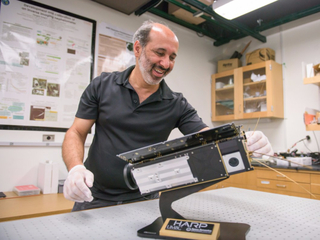 This article was first published here and was written by Stephen Babcock.
Perhaps as early as March, a satellite the size of a loaf of bread is set to launch from Wallops Island, Va., to the International Space Station. Then, from inside the space station, the UMBC-built satellite will be released with three other small satellites, one by one, into orbit.
From its perch higher than the Space Station, HARP, or Hyper-Angular Rainbow Polarimeter, is primarily concerned with what is happening below.
The satellite is equipped with a camera that measures aerosol particles and how they interact with clouds.
The UMBC-built spacecraft is one of six small satellites that are set to launch in the coming months. Each is set to provide observations of climate in a new way. While HARP is looking at clouds, others are studying hurricanes, weather patterns and greenhouse gases. NASA is looking to use the smaller satellites more for science since they are cheaper and allow for more risk.
It was built at UMBC's Laboratory for Aerosol and Cloud Optics over the last three years (the science goes back a decade). A team that included high school students, faculty, undergraduates and postdocs worked on developing the satellite. The lab also has a partnership with NASA's Goddard Space Flight Center in Greenbelt that allows access to the center and NASA engineers to work on the project.
"We basically have people going all the way from designing to fabricating, turning nuts and bolts, all the way to doing the science behind it," said Vanderlei Martins, the physics professor who developed the satellite and is leading the effort.
Aerosols appear as both a naturally occurring variety of the particles, such as sea salt, smoke or volcanic ash, as well as their artificial form that are pollutants. Aerosols affect sunlight by scattering it, and also form the building blocks of clouds.
"Every single cloud on Earth starts from those particles," Martins said.
The observations from above will help Martins and scientists from other departments to understand the interaction of aerosols with the clouds as they form.
Imaging and measurements generated by the satellite's camera provides one look at "how things are changing as we change our planet," Martins said.
Emitting particles into the atmosphere changes how the clouds are formed, but Martins said more information is needed to understand the processes behind those changes. The data that is collected has implications for understanding how the weather and water cycle is affected, as well the energy balance of the planet.
The team has conducted flyovers via plane to take measurements, but Martins said getting a view from above the Earth will provide an even better picture of the wavelengths of the clouds that scientists are seeking to observe.
The first window for a potential launch is in late March, but Martins said that time is not guaranteed.