Director of Research of Navy Office of Research visits UMBC
October 20, 2016 12:07 PM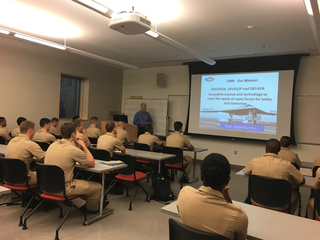 On Wednesday, October 19th, Dr. Larry Schuette, the Director of Research in the Navy's Office of Naval Research (ONR) visited UMBC.
Dr. Schuette started his visit by speaking to the students in UMBC's new Navy ROTC program about opportunities for student involvement in research. After then visiting with individual UMBC labs and professors, he then spoke to a large group of UMBC faculty about the grant funding opportunities provided by ONR.
Left: Commander Stewart Wennersten, Executive Officer of the UMBC ROTC program.
Right: Dr. Lawrence Schuette, Director of Research, Office of Naval Research
Dr. Schuette presents to UMBC ROTC students.