Professor Kate Brown selected as Andrew Carnegie Fellow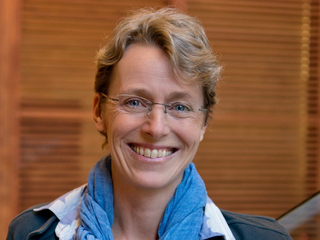 Kate Brown
, a professor of history, has received a prestigious research fellowship from the
Carnegie Corporation of New York
and is one of just 33 scholars nationwide recognized for their significant scholarship in humanities and social sciences as part of the 2016 Andrew Carnegie Fellows Program.
Brown was selected from a nomination process that entailed three levels of review and began with the Corporation seeking recommendations from more than 600 leaders from universities, think tanks, publishers, and nonprofit organizations nationwide. Fellows were selected based on originality, promise, and impact of their research, and each fellow will receive up to $200,000 in research support.
Brown's proposal, titled, "Chernobyl's Pale: Health, Controversy, and Science in Determining the Contours of Nuclear Disaster," is a two-year study that is a continuation of her
American Council of Learned Societies (ACLS)
fellowship to study the long-term effects of low doses of radiation on human health in the context of the Chernobyl disaster nearly three decades ago. Brown will use the fellowship to conduct a large scale investigation to historically analyze three decades of medical research on Chernobyl.
This year's Carnegie Fellows class will conduct research aimed at addressing some of the world's most pressing and urgent challenges, and the program supports established and emerging scholars, journalists, and authors whose work informs leaders in science, law, technology, business, and public policy.
"I'm hopeful that this fellowship will help bring greater visibility and support to the high-level scholarship that exists in the humanities and social sciences not only nationwide, but also here at UMBC," Brown says. "I'm extremely grateful to my colleagues for their support during this process and to President Hrabowski for his nomination for this fellowship."
"Our founder, Andrew Carnegie, charged Carnegie Corporation with the task of creating, advancing, and diffusing knowledge in order to enlighten American society and strengthen our democracy," Carnegie Corporation of New York President Vartan Gregorian said in a
news release announcing this year's fellows
. "This outstanding new cohort of 33 Carnegie Fellows is a result of that mandate."
The anticipated result of each Carnegie Fellowship is the publication of a book or major study.
Susan Hockfield, president emerita of the Massachusetts Institute of Technology (MIT), chaired the panel of jurors responsible for reviewing this year's proposals, and noted that, "the large number of truly outstanding proposals makes the jury's task difficult, but it also renews our confidence that social science and humanistic perspectives will- and must- contribute to designing solutions to today's most complex challenges."
For news coverage of the announcement, see below:
Image: Kate Brown. Photo by Marlayna Demond '11 for UMBC.