UMBC an Ambassador Institution for NIH 2015 Regional Seminar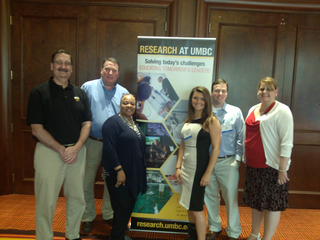 The National Institutes of Health (NIH) held the 2015 Regional Seminar on Program Funding and Grants Administration at the Baltimore Inner Harbor on on May 6th through May 8th.  
UMBC – along with Johns Hopkins and the University of Maryland, Baltimore – served as an Ambassador Institution for the event. UMBC helped staff the event, with our university represented by volunteers Dean Drake, Stan Jackson, Deborah Waters, Stefanie Dwyer, Matt Poland and Amy Rynes (not pictured). Also pictured is Tina Stanger, former Director of UMBC's Office of Sponsored Programs.
The three-day event consisted of many workshops led by personnel from across the institutes of NIH, covering a range of topics relevant to the wide range of research which NIH supports.