Jeffrey Gardner Receives Dept. of Energy Early Career Award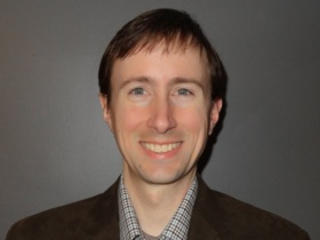 The U.S. Department of Energy (DOE) has selected UMBC's Jeffrey Gardner, assistant professor of biological sciences, for a 2015 Early Career Research Program award. This program supports exceptional researchers early in their careers, when many scientists do their most formative work.
The DOE award will provide five years of support for Dr. Gardner's research into the use of plants as a renewable energy source. Most animals can't use wood as an energy source because they are unable to digest plant cell walls. Termites are able to get energy from wood thanks to the help of bacteria that live in the termites' digestive system. Similarly, bacteria living in soil can digest freshly fallen wood and other plant materials, which gives the bacteria energy while converting the fallen plant material into more soil.
The Gardner lab is focused on improving our understanding of one of these soil bacteria, in the hope that the techniques used by these bacteria to extract energy from plants can someday be used by humans as a renewable source of clean energy. Dr. Gardner's work is focused on how this particular species of bacterium is able to detect the presence of digestible plant material and on how these bacteria regulate the production of chemicals they use to digest it efficiently. Dr. Gardner takes an interdisciplinary approach, studying both the genetics and biochemistry of the bacteria.
"I am extremely excited to be selected for a DOE Early Career Award," said Dr. Gardner. "It presents an excellent opportunity to pursue fundamental research that can translate into applied bioenergy solutions."